Information
Call (800) 964-5707 Ext. 3 or 4
8:00 a.m. – 5:00 p.m. Monday through Friday.
Service Availability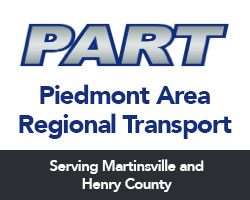 7:30 a.m. to 5:30 p.m. Monday – Friday
Service is not provided for the PART Program on the following holidays: New Years Day, Good Friday, Memorial Day, July Fourth, Labor Day, Thanksgiving Day, and Christmas Day.
View Schedule & Bus Route
Service Hours
PART offers a deviated fixed route service to the citizens of Martinsville and Henry County.
The service operates Monday through Friday from 7:30 a.m. to 5:30 p.m.
PART is currently operating fare free.
Individuals who are ADA certified may request the van to deviate off the route to make pick-ups and drop-offs. The distance of deviation may not exceed 3/4 of a mile off the route.
For more information regarding this service call (800) 964-5707 Ext. 3 or 4.
Registration for Service
PART ADA Application (Print Version)
To access a copy of the application that you can print and fill out, click the Download Application button below.
Download Application
PART ADA Application (Online Version)
To submit your application completely online, follow the two-part process below.
Step One: Submit Online Application
All parts of the online application must be completed in order for the application to be reviewed.
Online Application
Step Two: Submit Online Professional Verification
Applicants must also have the Professional Verification form completed by a professional, who is familiar with the applicant's particular disability and current ability to use public transportation, to verify the information that the applicant has provided.
Professional Verification
Bad Weather
When Martinsville City schools close due to inclement weather this service is not provided. Announcements are made on local radio, television stations, and RADAR's Facebook page.
View Our Title VI Notice
View Our Title VI Plan & Procedures